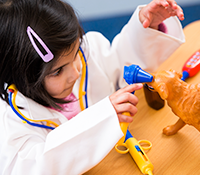 Lyncrest has a fabulous educational Nursery catering for pre-school age children from the age of 3. The teacher has a wealth of experience and is very well supported by a highly qualified early years team.
Find out about joining our Nursery
We offer 26 morning places and 26 afternoon places. Sessions are for 3 hours every day in term time either in the morning or afternoon. The Nursery offers 30 hours places.
Please enquire if you are interested in having a look around or applying for a place.